In-silico and in vitro evidence of anti-dengue viral action in selected Sri Lankan medicinal plants; a narrative review
Gunasekera K.M.
Keywords:
Dengue, Sri Lanka, Plants, In silico, In vitro, Phytochemicals
Abstract
More than half a century following the first isolation of the dengue virus, there is yet no effective antiviral agent for the treatment of dengue. For centuries, medicinal plants have been used by traditional medical practitioners for treating all types of infections. Plants are the direct or indirect sources of most approved drugs and synthetic drugs have been modelled on natural products. Screening of phytochemicals in vitro and/or by structure based computational studies are two approaches used in the search of a suitable antiviral agent for dengue. High throughput virtual screening by molecular docking allows for rapid and cost-effective screening of a larger number of compounds. This is faster and cheaper than using laborious in vitro assays for screening. Plant compounds identified by in silico assays, could subsequently be confirmed by in vitro assays. In this review, 52 medicinal plants used in Sri Lankan traditional medicine for fever patients, were identified. Literature search in PubMed and SCOPUS databases identified eight of 52 plants (Acorus calamus, Aegle marmelos, Azadirachta indica, Carica papaya, Glycyrrhiza glabra, Psidium guajava, Syzygium aromaticum and Vetiveria zizanioides) that had been studied by in silico methods. Phytochemicals of these eight plants with good docking activity for dengue virus, are described in this review. Out of these, phytochemicals epicatechin, kaempferol-3-o-B-rutinoside, rutin catechin, quercetin, chalcones, hesperidin and naringin are the only compounds that have been studied by both in silico and cell culture methods. Except for rutin and hesperidin, in silico findings of all the other compounds were compatible with results of cell culture assays. Phytochemicals with good docking activity for dengue virus target proteins, but which require evaluation by cell culture assays, have been highlighted for consideration in future studies.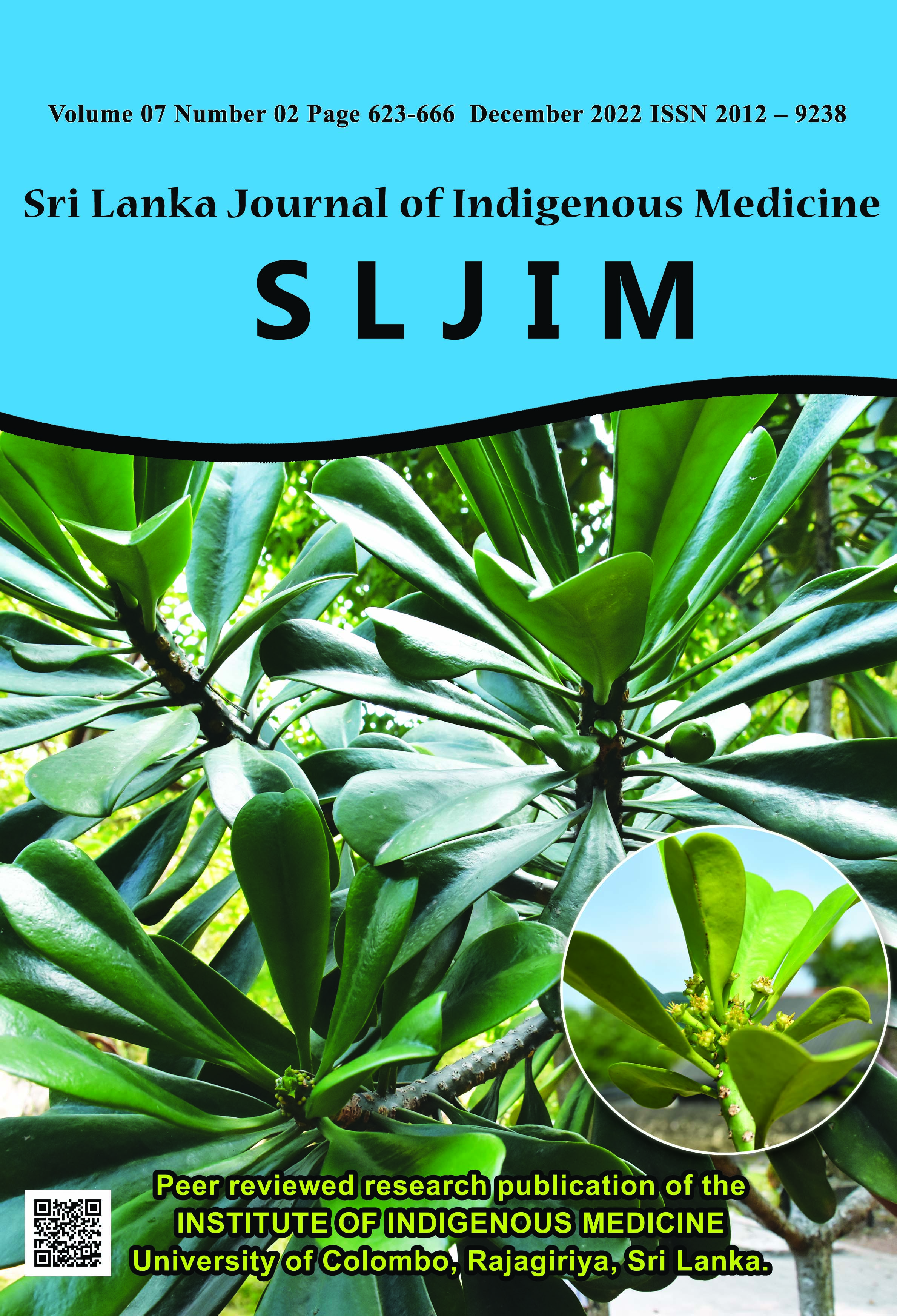 Downloads
How to Cite
In-silico and in vitro evidence of anti-dengue viral action in selected Sri Lankan medicinal plants; a narrative review: Gunasekera K.M. (2023). Sri Lanka Journal of Indigenous Medicine (SLJIM) , 7(02), 645 - 657. Retrieved from http://sljim.iim.cmb.ac.lk/journal/index.php/sljim/article/view/79